With over 25 years of experience in the industry, BAM Window Cleaning has grown to become one of the most reliable and trusted cleaning companies in Melbourne and the surrounding. Today, the company is proud to announce that they are still committed to offering cleaning services for both residential and commercial clients across Melbourne.
BAM Window Cleaning specializes in cleaning residential homes, office buildings, schools, body corporate apartment buildings, aged care facilities, and business parks. Their services include residential window cleaning, commercial window cleaning, pressure washing, solar panel cleaning, gutter cleaning, and signage cleaning.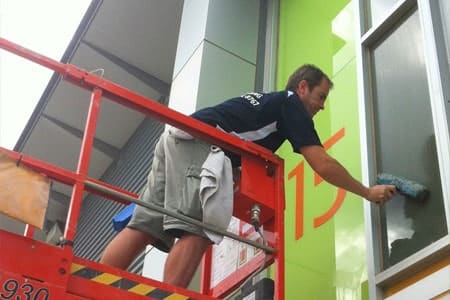 When it comes to property cleaning, BAM Window Cleaning understands the need to deploy professionals who are not only trustworthy but also have great respect for handling customer's property. The company has established itself as one of the best and affordable providers of professional cleaning services. Therefore, they are assuring their clients of property safety, handling everything with care, and doing a thorough job to the satisfaction of the owner.
Aaron Johnstone of BAM Window Cleaning said, "Whether home or office, the first impression matters a lot. The way your property looks will play a huge role in how visitors and customers think about your home or office. That is why it is important to keep your home and office clean at all times. Since you can't possibly achieve this yourself, that is where BAM Window Cleaning comes in."
In regards to efficiency, BAM Window Cleaning is assuring property owners of the highest standards of cleaning without leaving behind any smudges, streaks, or scratches. They believe a cleaning job is not done until clients can confirm the sparkling and excellent state of their properties.
BAM Window Cleaning can handle all kinds of cleaning jobs, be it in local cafes, large schools, factories, high-rise buildings, to mention a few. They can deliver top-notch services with no compromise. The company is committed to delivering cleanliness that will last till the next washing.
As one of the leading providers of residential and commercial cleaning services, BAM Window Cleaning uses the latest equipment and products, enabling them to carry out effective and safe cleaning. Most importantly, clients can get their services at competitive prices.
BAM Window Cleaning services are available to not only the residents of Melbourne but also those in the Mornington Peninsula, as well as Bayside and Southern Suburbs.
They provide their services 7 days a week, and their customers can choose the most convenient time for the cleaning.

Commenting further, Johnstone said, "We are passionate about the services we offer and are always working to improve on them to make our clients happy. We value customer loyalty and, as a result, always deliver on our promise."
Meanwhile, many customers who have used BAM Window Cleaning services have taken to the internet to voice their experience with them. "Not only do they provide quality service, but their scheduling also is convenient, and paying was a breeze!" said a satisfied customer, Chad Brown.
Another happy customer, Nicole Curtis, said, "They were great from start to finish, from the point of communication to scheduling, and getting a quote. Will be using them again."
BAM Window Cleaning's cleaning crew are well-trained in the most efficient techniques available and equipped with the right tools to clean up a residential or office building.
To learn more about BAM Window Cleaning's service and they can help you, visit https://bamwindowcleaning.com.au/.
About BAM Window Cleaning
With over 25 years of experience, BAM Window Cleaning has been providing exceptional cleaning services to clients in Melbourne and its environs. The company only employs a professional team of cleaners that are considered experts in the cleaning industry. They have established themselves as one of the cleaning industry leaders and are trusted across the whole of Melbourne.
Contact
Company Name: BAM Window Cleaning
Contact Name: Aaron Johnstone
Address: PO Box 35, Moorabbin, Vic 3189, Australia
Email: [email protected]
Phone: (03) 8682 8767
Website Address: https://bamwindowcleaning.com.au/