BAM Window Cleaning is pleased to announce its superior commercial window cleaning services to factories, high-rise buildings, and other commercial buildings, such as Schools, Hotels, Restaurants, Gyms, Display Homes, Retirement Villages, and more. BAM Window Cleaning is a cleaning company with over 20 years of experience in providing local business throughout Australia.
Windows are actually one of the first things people usually notice when they enter an office. They are a factor in determining public or customer opinion about a company or business. The impact of unclean windows can leave a negative impression on clients, colleagues and visitors. Maintenance and cleaning of windows can be a real ordeal if the building is large, hence the need to employ professionals to do the job. BAM Window Cleaning Services knows the impression a sparkling window leaves on people, that is why they are providing window cleaning services for commercial clients.
"What dirty windows primarily mean is less light, which has negative impacts on the mood of the employees in an office. Adequate natural light is key to the atmosphere of an office, especially for those offices that feature tall windows throughout," says Aaron Johnstone, a spokesperson of BAM Windows Cleaning.
Speaking further, Aaron says, "If there's one thing we've learned over the years, it's that clean windows are not only a reflection on your business but ours too, this is why we deliver to the satisfaction of our customers."
BAM Window Cleaning is a business entity that provides professional cleaning services to its commercial businesses. The company lays extra emphasis on the provision of quality services and maintaining high standards. Their rates are affordable and competitive with high-quality results and real value for your money. BAM Window Cleaning has a team of specialists in high-rise commercial window cleaning. These professional commercial window cleaners can climb the tallest skyscrapers, reach the hardest parts, and safely carryout cleaning without any damage.
There is no commercial job too big or small for Bam Window Cleaning. Their team of experienced commercial window cleaning crews is equipped with the best equipment on the market to safely access all of your high reach windows. They can handle anything from a local cafe to a large school, block of factories or high-rise buildings. They strive to provide their customers with the highest quality and most reliable commercial window cleaning services at the best price.
"I have used the services of BAM Window Cleaning for many years and have always been happy with the results. The attention to detail is excellent, they are always on time and the windows are left sparkling clean. I would highly recommend them for their professional service and courteous manner." Pia Frazer Mackenzie, a customer commented on the services received from BAM Window Cleaning.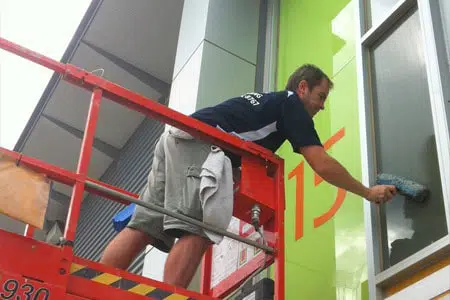 So if you want your office to look sparkling clean with amazingly clear and shiny windows, then get in touch with the BAM Window Cleaning. For more information about the company and how their commercial cleaning services can benefit your business, visit https://bamwindowcleaning.com.au/commercial-window-cleaning/.
About BAM Window Cleaning
BAM Window Cleaning provides professional window cleaning, pressure washing, and other exterior cleaning services to domestic and commercial clients across Melbourne and the Mornington Peninsula. They are fast, efficient, cost-effective, safety conscious and always strive to provide residents and businesses of Melbourne with unrivaled and professional service. BAM Window Cleaning is passionate about what it does and is constantly looking for ways to better improve its service. At BAM Window Cleaning, their motto is "We deliver what we promise" and they ensure this through constant training of their team to service customers beyond what they expect and most importantly, a service that is second to none.
Media Contact:
Company Name: BAM Window Cleaning
Contact Name: Aaron Johnstone
Address: PO Box 35 Moorabbin, Vic 3189 Australia
Email: [email protected]
Phone: (03) 8682 8767
Website Address: https://bamwindowcleaning.com.au/