Clean windows are a must for attractive and hygienic homes and buildings. Natural light is ideal for this purpose. With that in mind, hiring a professional window cleaner can not only save you time and effort but they have many techniques on how to clean your windows safely and effectively. Here are ways to hire professional window cleaners:
Cleaning your windows can take a lot of effort. A good window cleaner is more than up to the job. They bring in as many people as possible in order to get that job done. That means having lots of workers if necessary to ensure your windows are cleaned to your exact specifications. They will bring in lots of employees if you have a large property. That is the best way to keep your windows in good shape over time.
A business owner may have a large building with lots of windows on each floor. All of these windows need to be cleaned efficiently. The right window cleaners for your needs know how to get up to even the highest windows and get them clean. They can climb up very high and still make sure every part of the window is cleaned. They'll do so safely and easily every single time.
Tools are also important when it comes to getting windows cleaned. A good window cleaner knows what they need to have on hand to get the job done well. They are well versed in the type of tools that can be used to remove existing dirt and grime. They have what it takes to get the windows in sparkling good condition when they are done.
Fluids are essential when cleaning windows. At the same time, fluid must also be carefully handled. Fluids of all types should be stored properly when people are on the job cleaning your windows. The right window cleaner understands how to manage these fluids so they don't spill or cause any other kind of problem for your home or business. A good company knows how to keep these fluids in easy reach as they work. They also know what kinds of quantities are needed in order to get the windows cleaned as fast as you want it completed.
The efficient window cleaner is also someone who knows how to get the job done quickly. This means they know what has to be done at all times as they work. They can make sure that the task of cleaning your windows is done according to established procedures. Once the job is finished, they'll wrap it all up. They will make sure that anything they've used to clean up your windows is removed from the location and put away properly. That is how they get the job of cleaning your windows done in the best possible way right now.
Each job needs a lot of attention to detail. That is something that all window cleaners know well. They know that there are things they have to do even before they begin. This means having it all in place and ready to go before they do anything else. An efficient window cleaner is not going to make any extra movements as they work. They are going to work it all out before they begin. Moving well means they are ready to get things done from the second they show up at your home or where you might be doing business.
Many interior spaces have windows that can be very hard to reach. They might be up on top of the entryway or nearly hidden behind a soffit. These are windows that still need to be cleaned. Good window cleaners know exactly how to reach these spaces. They have tools that allow them to get up as high as necessary in order to reach such spaces without a problem. For example, they have a ladder and other items that lets them get into all the nooks and crannies. They will make sure that all such spaces are fully cleaned from top to bottom.
To clean the windows means thinking about the entire process. This means taking careful stock of what needs to be done before people begin. It also means knowing how to deal with each space. Professionals know how to survey the entire space carefully. They'll come up with a plan to deal with any issues they might find as they work with your windows. That is the kind of experience they bring with them when they choose to make sure your windows are cleaned to your precise instructions. They will follow these steps as they clean your interior windows well.
There are certain things that should be taken into account when it comes to working with your windows. For example, you might have special circumstances that need lots of careful consideration. You might have a daycare onsite. That means working around children. A good window cleaner can come up with a plan to help respond to these issues well. They know there are times when you're going to need to work with windows that aren't a standard shape or might have lots of moving parts. They will make sure all of your windows are clean no matter what.
Weather conditions can also impact the state of your windows. You might have been in a period of snow and ice. There might have been high winds in your area. You need a window cleaner who can cope with these issues properly. Good window cleaners understand this and know how to respond. They also know how to cope with ongoing issues when they are at your home or business. If conditions shift, they have the resources and they know how to cope with them. They'll make sure your home and business windows are cleaned even in the middle of the pouring rain.
Everyone wants a sparklingly clean window and most of us take for granted the importance of having clean windows in our buildings. Clean windows let the light shine in and give any business a healthy and rejuvenating feel. However, although maintaining the cleanliness of your windows is important, it can be an arduous and time-consuming task. Hiring a company to clean your windows can provide you with a variety of benefits, including helping you project a professional appearance as well as keeping you and your employees healthy and safe.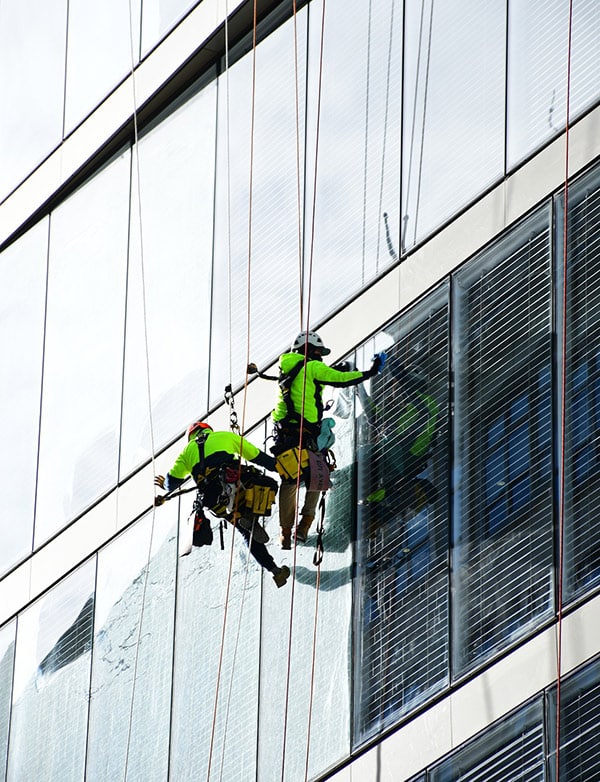 Windows that are not cleaned on a regular basis will experience a build-up of dirt, grime, and a variety of other natural pollutants. This build-up can result in etching as well as hard water marks that will leave your windows looking shabby. Additionally, once this type of damage occurs, you will need to replace your windows, which can quickly become an expensive endeavour.
However, opting for commercial window cleaning will significantly decrease the likelihood that your windows will suffer from this type of damage as having them cleaned by professionals ensures residue will not accumulate and your windows will not suffer from streaks. Additionally, a major benefit of having your windows cleaned is professionals are trained to look for signs of weather damage. If any damage is detected, you can easily have it addressed before your window is beyond help and requires replacement.
Commercial window cleaning also ensures your windows are clean throughout every season. This is important because allowing your windows to remain dirty for long periods of time makes it more difficult to clean them. Additionally, even if they are not damaged, dirty windows can ultimately become discoloured.
2. Improves Communication
In terms of your business, the different types of communication you employ is critical to your success. You obviously know that clear verbal communication is important, and you likely have customers sign contracts or agreements when they purchase certain products or subscribe to ongoing services. However, one of the most important ways of communicating with your clients involves non-verbal communication in the form of your windows.
Obviously, your windows communicate to your customers because at least one will have a sign on it that likely spells out your business name. It might also include a caption, which summarizes your motto or the types of services you provide. However, the cleanliness of your windows will speak to customers and inform them about the type of business you maintain.
For instance, if you allow your windows to become dirty, you likely keep a dirty store room. If your windows are dirty, you likely keep a dirty back office. If customers can infer that your business is dirty, they will not feel inclined to purchase from you. If you run a food-based business, they will certainly not want to eat in your establishment. Clean windows, however, let people know that your back room as well as your food-storage areas are clean and that you care how your customers think of you and your employees.
Having your windows cleaned by professionals on a regular basis will communicate to customers that you care about the quality of your business, which in turn will increase your customers' confidence in your ability to meet their needs.
Your windows reflect on you and your customers, but they also reflect on the businesses near you. If you keep your windows clean, people will feel comfortable shopping at nearby stores even if they do not have the need to buy your products. Because the appearance of stores in any area is important, keeping your windows clean is probably a part of the contract you have with your landlord.
That said, as there is much to do throughout the day to ensure your business continues to grow, the task of cleaning windows can easily be forgotten. However, you can avoid this mishap by simply using commercial cleaning services for your company's windows. Doing so will relieve you of having to worry about any fines imposed on you for being out of compliance.
If your business is on multiple levels or is located in a high-rise building, keeping your windows clean can be challenging. More importantly, keeping them clean can pose a risk of serious injury to you or your employees. As cleaning windows located above the ground floor is a hazardous job, it is a much better option to have a professional window cleaner complete this task for you.
However, you should be sure to hire a company that is certified and licensed to deliver this service as licensing ensures that the company's workers possess the needed skills as well as the equipment necessary to clean and maintain your windows. Additionally, a commercial cleaning company has the expertise to prepare an area in such a way as to prevent accidents, which can arise if a window pane breaks or a ladder tips.
Nobody wants to work in a dirty office. In fact, an office that is shabbily maintained can have a negative effect on productivity. Moreover, a dirty office can affect the health of you and your employees. One important aspect of maintaining the cleanliness of your office is, of course, keeping your windows clean. For instance, dust and dirt easily accumulates on windows. This type of accumulation can irritate allergies as well as cause breathing issues for individuals suffering from asthma.
Over time, the accumulation of such things as mold, dirt, and grime will lower the quality of the indoor air. Additionally, indoor air quality has been shown to have a major influence on the health of employees. Poor air quality can also have a significantly negative effect on an individual's comfort. Such discomfort can then impact a person's ability to perform his or her job. As such, it is important to keep your windows clean to help maintain optimal air quality.
However, it is quite common for windows, especially those located on glass doors, to accumulate debris and germs that are difficult to remove via a simple glass cleaner. Fortunately, professional window cleaners can sanitize your windows with cleaning products that are industrial grade, leaving your windows completely clean and germ free.
Clean windows show how much you love to take care of your house. That is also true when it comes to your place of business. You need windows that you can see out of with ease and at the same time provide light and sunshine inside. Having light and sunshine inside your home or place of business provides joy and health by getting the much needed Vitamin D. Clean windows enables anyone to get access to light when they're indoors during the cold, long winter months. Having clean and well maintained windows shows everyone how you value your property, your health and your family's well being. Here are ways to clean and maintain your window: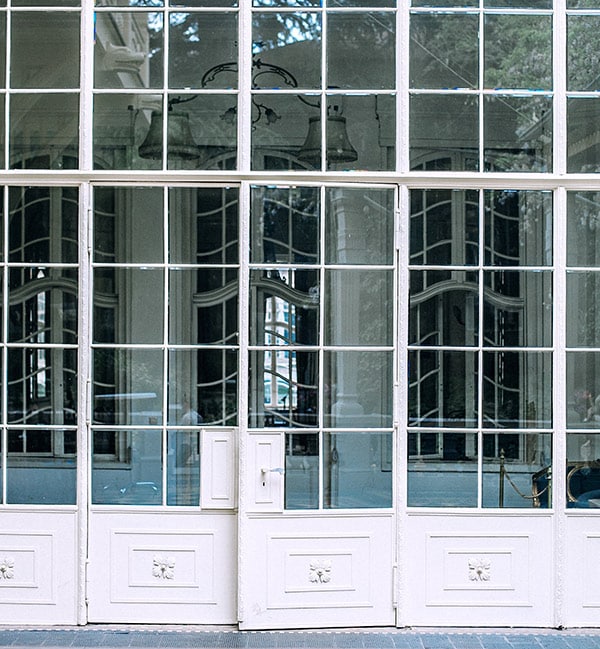 Keeping windows clean is easy. Hiring a window cleaner is a great option. A good cleaner will remove all the window's spots. That will ensure several things. It means the windows look better from the outside. A business owner with clean windows shows off their devotion to all those little details that make them look competent. When customers come into a space with clean windows, they can see the products for sale more easily. They can also work with the employees in a congenial and convivial space. If you own a business or a home, you'll want to find the best possible window cleaner for your interior spaces. A true professional can really make a difference.
If you are choosing a window cleaner, there are many factors you'll have to take into account along the way. You need a reliable cleaner who will show up when you want them. You also need someone who has previous experience cleaning the windows. A good clean is also someone who knows how to clean varied types of windows. For example, they know how to clean windows in odd shapes such as transom windows that might be located high up. They also know how to clean windows that are much larger and have special features. The good window cleaner is someone who can get all of these kinds of window cleaning done and get them done to your personal satisfaction in every possible way.
Finding a window cleaner should be done once you realize you want to outsource this project to someone else. It's a good idea to start by contacting friends and family. It's likely there's someone you know personally who can recommend someone who can do the job for you. They might know a company or an individual who does this kind of thing on a routine basis. They can tell you what you need to know about that person. That will make your life easier as you have someone who has already vetted the company for you before you make any further decisions. They can help you get a list in mind and then begin the process of narrowing it down to the company you want.
A window cleaner should be able to offer lots of references. You should be able to see what they've done in the past. Look for companies or individuals who have lots of good reviews online. This indicates they have a generally happy client base. If you see lots of happy reviews, this is a marker that they are serving the customers well. It's also an indicator that they are helping people keep their windows clean. That means they are a company that is trustworthy. If you don't see lots of reviews online, this can indicate several things about the company. It may indicate this is a brand new company. It can also indicate this is one company that does not rely on the net for clients. Either situation should mean you need to investigate the company further and find out more about them.
The price you are likely to pay will vary depending on a few things. For example, if you have a smaller house, this typically means you have fewer windows that need to be cleaned. That can make it easier for the cleaner to get the job you have in mind done quickly and easily. On the other hand, if you have a space that is much larger and has more windows, this can increase the prices you are likely to pay to have the windows cleaned. You'll want to find out what price you are likely to be charged before you do anything else. It's useful to ask the person or company to give you a list of the prices they charge each time before they do anything on your property.
You should also ask about how often they can come to your home or place of business. Windows need to be cleaned on a routine basis. You might also need to have the windows cleaned in the event of a weather problem. For example, if there are winds and heavy rain in your area, you might be in need of a cleaner very quickly in order to clear up the damage. You need a window cleaner who can come to your home or business and get the job done when you need it done.
Above all, you need to have a company that you can work with directly. Effective window companies are those that are fully responsive to client needs in every way. These are companies run by true professionals. Ask them about the kind of chemicals they use to clean the windows. They should be open to any suggestions you have. Also ask them about how many people they use to clean. A team of experts can be at your door to make your life easier. A good window cleaning company can answer your questions and response to your concerns thoughtfully. You want a company that is run by people who care about what they do and do it truly professionally.